Last Update: 01/03/19<!****ADD DATE****>
Schramm Guitar Specs
---
Schramm Guitar Models:
Miguel Rodriguez Style Model
The Schramm/Rodriguez model features the definitive elements of this Andalusian icon. The fret wire used is wider than tradition frets and is the same wire used by Sir Pepe Romero in his guitars. The neck is shaped using templates Mr.Schramm made from close study of Bill Kanengiser's 1977 Rodriguez guitar which was used on his "Hot Licks" technique video. This style of guitar sounds best with the longer scales of either 660 and 664, but 650 has good results as well. If you enjoy the sound of Pepe Romero on his Rodriguez guitars you will love this instrument.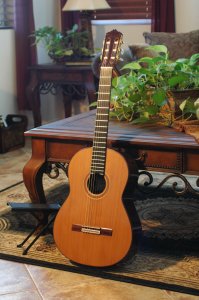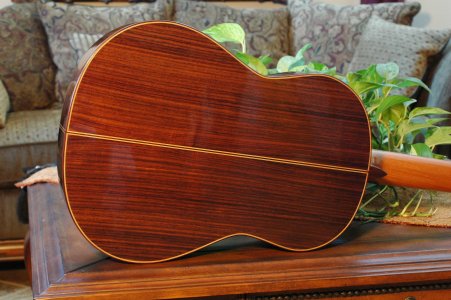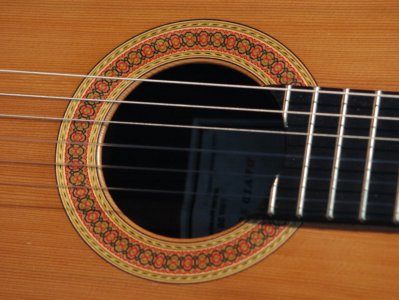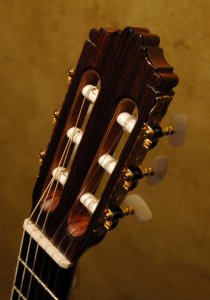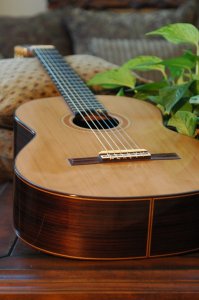 I am very familiar with Rodriguez guitars.
I've played a lot of them over the years.
I owned a very good one at one point
and I have to say Dave, this guitar
is one of the very best "Rodriguez" type guitars
I have ever played. It is really something!-Mel Hallam, Author of "How to Develop Tremendous Technique"
---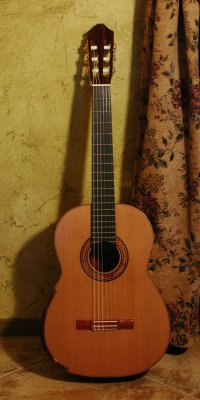 Lattice Model
I am now building a new lattice braced instrument. This instrument features an arched brace-less back which facilitates greater volume and projection. A unique feature of the lattice design is the benefit of gradation of dynamics and tone color which gives the player a broader musical palette. The top is braced with a 9 x 9 strut lattice of carbon fiber and balsa wood which will not distort or weaken over time. Top thickness is 1.5mm which is thicker than the guitars of Greg Smallman which are 1.2mm in the middle to 0.7 at the edges. This style of guitar is less prone to damage from adverse humidity conditions. The neck can be built with an adjustable neck for quick on the fly action changes. This requires a 1/8" allen wrench.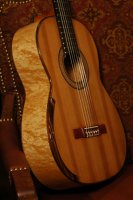 Sound Sample (1mb)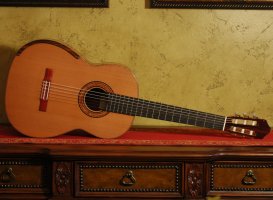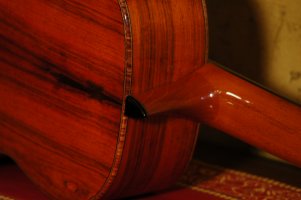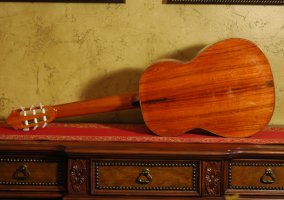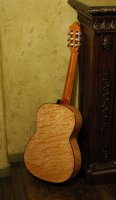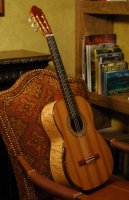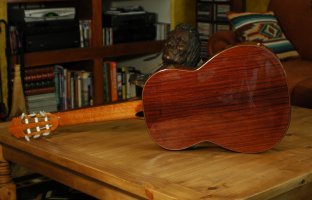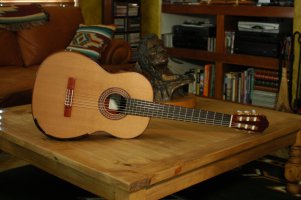 For more info visit Lattice Info.
---
Hermann Hauser Reproduction
Schramm H(auser)1a & H(auser)2a Models.
Schramm guitars now offers two Hauser inspired instruments. David Schramm is one of the world's leading authorities on the Hermann Hauser style guitar. You can read his original research paper that has been reviewed and published by the Hauser family at www.hauserguitars.com
YouTube samples of an Schramm H1a model:
For those looking for a fine hand-crafted guitar at an affordable price I recommend my H2a model.
This model is inspired by Andres Segovia's 1937 Hauser. Some of the features of the H2a are the traditional spliced head joint, production rosette replica custom made for Schramm guitars to my specifications, AA Tonewoods, and lacquer finish. Don't let the low price fool you. This instrument is a true concert instrument at an excellent price. This model has been "Schramm Guitars" most popular model since it was first introduced in 2003.
This model possess excellent clarity, sustain, separation, volume and beautiful "Hauser-style" tone.
Schramm H(auser)2a Classical Guitar
H2A Sound Sample
(Recorded by Trent Howard)
Rosette Options:
There are two rosette replica options for the H2a model. A replica of the famous 1937 Hauser rosette found in the guitar built for Andres Segovia and the other is one of the most common rosettes found in the guitars of Hauser II and III.

Option 1.
1937 Segovia/Hauser style.

Option 2.
Hermann Hauser II and III style.
Purfling Options:
Purfling is the decorative lines that frame the guitar top, back, sides,head and tail.
The standard back and side purfling for the H2a model is a solid single white line, usually made of either maple, holly or poplar.
The standard top purfling is a B/W/B/W veneer pattern.
No purfling is used on the head.
---
Schramm H(auser)1a Model

The other Hauser inspired model is my H1a model. This model is based on my research of the Hauser Spanish guitar. This model emulates as exacting as possible the definitive elements of the Hauser Spanish guitar. These guitars are regarded as one of the world's most authentic Hauser reproductions available today. They possess the same excellent clarity, sustain, separation, and beautiful "Hauser-like" tone as an original Hauser guitar. Only the finest quality materials are used in this model. All the universal Hauser features are incorporated into this instrument. An original Hauser guitar in the Schramm collection is used as a model for these instruments.

H1a Sound Sample (1mb)

Images of H1a Prototype:

Purfling Options:
There are two purfling options. Purfling is the decorative lines that frame the guitar top, back, sides,head and tail.The green veneer is a Hauser tradition.
Option 1:
1937 Segovia/Hauser Style.

Option 2:
Hauser II/III Standard style.
---
Classical Guitars:
Professional model(see photos below):
---
Flamenco Guitars:
Dimensions:
Depth at Tail Block:
Depth at Lower Bout:
Depth at Waist:
Depth at Upper Bout:
Depth at Heel:
Width at the nut:
Width at 12th Fret:
Width of Lower Bout:
Width of Waist:
Width of Upper Bout:
95.5mm
92mm
90mm
88mm
86mm
52mm
60mm
14 1/2"
9 5/16"
10 7/8"
Flamenco Puro model(see photos below):
Bulerias performed by Dr.Corey Whitehead on Schramm flamenco #111
Tango performed by Dr.Corey Whitehead on Schramm flamenco #111
Farrucas-Juan Serrano Mp3 (1,315 KB) 0:42
Played by David Schramm
Campanillero-Nino Ricardo Mp3 (2,346 KB) 01:15
Played by David Schramm
---
8-String Classical Guitar
---
Finishes:
I only offer French polish shellac finish, Varnish, and water-base finishes due to health and environmental restrictions.
Brazilian Rosewood is available only for Domestic (USA) clients only. No exceptions.
Scale Lengths:
The scale length of 650 is standard. All other scale lengths are available and are considered custom orders. Scale length also influences sonority and feel of the instrument.
Options:
Some options are Covered "Vee" head joint, Gilbert style saddle pin bridge, Trapezoid head slots, 12-hole bridge tie block, custom rosette made by the luthier,etc.E-mail me with your special needs.
Cases:
There are many cases on the market today that will meet your needs and budget. Therefore cases are provided at my cost in addition to the price of your instrument.
Placing an Order:
To place an order for a Schramm guitar I require a 50% non-refundable deposit when construction begins. The remaining balance of 50% is due when the instrument is complete and prior to shipping. In addition to the cost of your instrument are shipping, applicable sales tax, and a case.
Custom Orders:
I do on occasion make custom guitars if I am inspired by the project. You can expect to pay more for custom models since I have to redesign my process and tooling for some of these projects.
International Buyers: All items will be sent as commercial goods. I will not commit fraud by sending item(s) as gifts, samples, or a lower value on the package. Client is responsible for all Import duties and taxes.
Purchase Policy:
Purchaser is responsible for all shipping, postal charges, customs, or any export/import fees. Payment is to be made in U.S. funds. I accept cash, money orders, or certified bank draft. Credit cards are accepted through "PayPal"
Return Policy:
If you are uncertain about purchasing a Schramm guitar, please do not place an order at this time. ALL SALES ARE FINAL!
Warranty:
All Schramm guitars are coverd by a limited warranty to the original purchaser for life against defective materials or workmanship. I will not cover damage incurred by misuse, accidents, normal wear or natural cracking of wood or finishes due to changes in age, temperature, and humidity. Wood by it's nature can not be guaranteed! Purchaser is responsible for all shipping and postal charges of the repaired instrument.
Waiting Period:
Contact me at dave@schrammguitars.com for the current wait period.
Referrals:
Referrals are provided upon request.
---
Customer Comments:
10/27/01
Re: Spanish Heritage model.
Dave,
The guitar sounds great. It is really different from the other one. They both have different personalities and voices. This one has an evocative sound that's very Spanish. It could almost pass as an extremely fine flamenco guitar. The response is immediate but firm, and the rasgeados sound great. Each rasgeado have an inner strength that comes through with each strum. Overall, the guitar has a clear, supported sound. I just can't say enough about it. It is great for the Latin music. I just wish I had more time this week to play it.
Take it easy, and thanks again for the great guitar.
Ruben Delgado
www.rubendelgadoguitar.com
---
10/31/01
Re: Spanish Heritage model.
Dave,
Just thought I would give you a progress report. Remember I told you this was a great guitar, well, it got better. I can't believe it. This must be what a real Hauser sounds like; or a Romanillos. This is literally one of the best guitars I have ever played. It is just great! I can bet that these will be very popular. Anyone would be crazy to pass up a guitar like this.
I'll talk with you soon.
Ruben Delgado
www.rubendelgadoguitar.com
---
From: Lutester (sesrlc@erols.com)
Subject: Re: Old Guitar Styles.......my new Schramm
Newsgroups: rec.music.classical.guitar
Date: 2003-03-01 11:28:48 PST
OK, it's been in the house for a few days now. It's time for me to gather my thoughts on what it's like to get a new guitar after some 40+ years. Yeah, there have been others in the meantime, but they were not new. Somebody else's grubby hands had been on them......even my trusty old Kohno came to me from a Japanese martial arts teacher. It was the only one that stuck in the sense that I wouldn't sell or trade it.
But now it has a serious rival. A 1937 Hauser.....oops!...a 2003 Schramm. Sorry. This guitar is so faithful to the Hauser in the museum that I forgot. From the V joint in the head to the cross-grain ebony veneer under the end of the fingerboard (what is that for?) it just oozes Segovia, Rey de La Torre, Pepe Romero, Julian Bream and a host of other guitarists far above my trivial skills. It's kind of inspirational. This thing may give me tendonitis from excess bench time. But, I just gotta get it, and me, broken in, don't I?
There are a few differences from the original, though. Actually, I'd call them improvements.
The tuners are Gotoh "Rogers" copies instead of Landsdorfers. They are very nice and smooth. The back and sides are nice Indian rosewood instead of Brazilian. I've never really liked the Brazilian figuring....too flashy and prone to cracking for my tastes. The top is Englemann spruce instead of German. This top looks like German though. It has a distinct grain character that is lacking in most of the Englemann spruce tops I've seen on lutes. The neck is Spanish cedar instead of mahogany. I've never seen a cedar neck warp with time or stress. I prefer it.
There is one outstanding difference that needs to be mentioned. I can't imagine that H. Hauser I or II could have done as good a job with French polish as David Schramm did on this instrument. This one is like a mirror. Ther's not a wipe mark anywhere, including around the bridge and the body to neck joint.
The craftsmanship is excellent. I could not find fault with anything anywhere on the instrument.....and I looked closely. Hey, it's my new baby, and the first thing you do with a new baby is look at all the parts to make sure they are OK, right?
So how does it handle and how does it sound, you ask?
The neck profile is what I would call "chubby." It fits my big old knobby paws quite well and I can help tell where I am on the fingerboard (eyes off) by the thickness under my thumb. There is a pronounced thickening from the nut to the 12th fret. It's almost like the way a theorbo neck gets larger toward the body. This is an important feature of this particular guitar. I rather like it.
The action is nice and easy, not to high, not too low. It's buttery. David did a nice job of setting it up. The frets are medium height. I normally use larger frets on a slightly radiused finger board, but I think the shape of the neck makes this one almost as easy to play.
Sound wise, compared to my trusty old Kohno, this Schramm Hauser seem to have a lot more "character" in the basses. By character, I mean that there is a discernable roundness and texture to them. Sustain is however, very long, so I may have to practice up on my damping technique.
The trebles on this Schramm Hauser seem to be changing daily. That may just mean I'm used to playing it in a different way. To my critical ear they are getting louder and fuller. Again, that "character" word comes in. I suspect the top will continue to loosen up with time and playing, particularly with the amount of time I'm putting in on it.
I don't know if it is the Hauser design or the Schramm execution of it that makes this guitar feel and sound so special to me. I'd have to play other Schramms and some 1937 Hausers to really tell for sure. I suspect that the other Schramm guitars share the same high level of craftsmanship and attention to detail as this one does.
I'm just glad I got this one at this particular time. Lucky me, eh?
Robert
---
David Schramm reserves the right to change any of the above information without notice.